Chiropractic Care
We believe that everyone can benefit from chiropractic care. When our bodies are first developing, the brain and spinal cord are the first parts of our anatomy to be formed. These areas are where all nervous system control is located.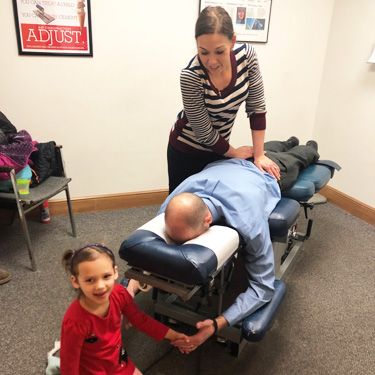 As chiropractors, we look carefully at that junction because it's the region that relays all messages to the body. Having good communication in that area is essential. This communication allows the body to self-heal and self-regulate. Stress is handled more efficiently, and function is kept at an optimal level.
Benefits of Chiropractic Care
Better sleep
Easier breathing
Feelings of being more connected and clear
Greater flexibility
Improved digestion
Increased well-being
Lessening or elimination of pain
Conditions That Chiropractic May Help
Many of our patients have found relief from conditions such as asthma, allergies, aches and pains, back and neck pain, headaches, immune issues and pregnancy discomforts.
We offer our patients high-quality, personalized care whether you're a newborn suffering from colic, or a middle-aged businessperson dealing with chronic pain. Dr. Jodi A Spurback has the tools and expertise to help.
Our Research-Based Techniques
We use a variety of adjustment styles in helping our patients to be the best they can be. We believe every person will benefit from the technique suited to them based on our diagnostic findings. Some of our approaches include
Activator Methods™
Diversified
Flexion-Distraction Technique
Webster Certified
Gonstead
Thompson Drop Table
Toggle Recoil
Customized Care, Rewarding Results
Our patients appreciate that we recommend specific care that will provide the best results in the shortest amount of time. Your comfort and confidence are always uppermost in our minds. However, if there's a particular technique that you prefer, we always have the option of changing our approach.
Book an Appointment Today
Whether you prefer a gentler adjustment, or a traditional research-based hands on style, we can accommodate you. We're here to put you at ease while creating a significant increase in the level of your health. Our office accepts insurance, and we have on-site X-rays. We also accept Medicare. Contact us today for a convenient appointment!
CONTACT US »
---
Chiropractic Care Amherst | (716) 417-6887