Pregnancy and Pediatric Chiropractic in Amherst
Although Dr. Jodi A Spurback provides care to family members of all ages and conditions, we hold a special place in our hearts for children and moms-to-be. From infants and teenagers to moms in their ninth month of pregnancy, we can help in many ways.
Benefits of Pediatric Chiropractic
Many children have found relief from the following conditions using chiropractic care, including
Asthma
Colic
Digestive problems
Earaches and ear infections
Feeding difficulties
Growing pains
Poor sleep patterns
Problems with focus and concentration
Sensory processing disorders
Autism
Not only can chiropractic care be effective for your child's ailment, but it's also safe and gentle. Very little pressure is used during an adjustment (only four ounces!), and most kids look forward to coming in to see the doctor. Dr. Jodi's three children get adjusted regularly and experience glowing health as a result.
Pregnancy and Chiropractic
Chiropractic care can assist in providing an optimal pregnancy. We've had several cases over the years where it was also beneficial in overcoming long-standing fertility issues. Specially designed tables are used for our adjustments so that Mom can lie comfortably on her belly during her session. We also supply pregnancy pillows for extra-added ease and comfort.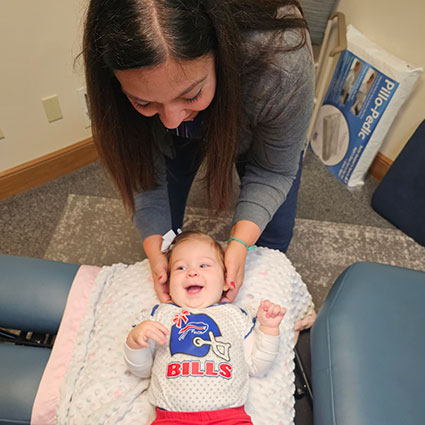 Dr. Jodi
is also Webster-certifiedand is Certified by the Academy Council of Chiropractic Pediatrics. Dr. Jodi has 200 hours of training and achieved Pediatric Certification. This prestigious certification means that she's had advanced training in the care and well-being of her pregnant patients and their children.
Dr. Marin is also Webster-certified and is working on her Pediatric Certification.
It's been our experience that our mothers-to-be
Benefit the fetus by being able to provide them with more space in the womb
Experience less discomfort during pregnancy, including back pain and sciatica
Feel good with a sense of well-being
Have safer labor and delivery
Recover more quickly after labor and delivery
Have a better chance of avoiding a breech birth
Get Started Today
We love working with little ones, and we love working with our moms-to-be. Your entire family is welcomed at our practice. If you're looking for a healing center that provides care with skill and compassion, then you've come to the right place. We accept insurance and offer late hours. Contact us today!
CONTACT US »
---
Pregnancy and Pediatric Chiropractor Amherst | (716) 417-6887